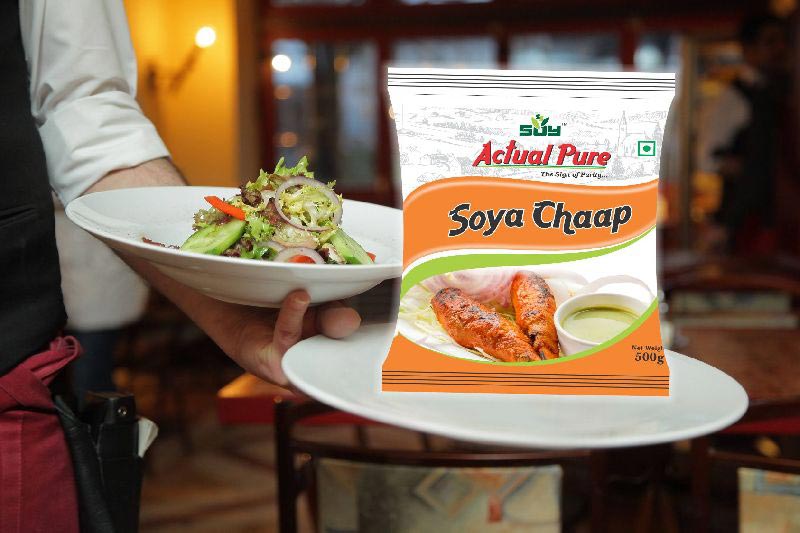 Soya chaap– many of you might not know about it, right? Even the first time I heard this name after getting married in Delhi. Yes, this healthy chaap is very popular in the northern parts of India. Traditionally the small pieces of marinated soya (with yogurt and some delicious spices) are baked together in a clay oven or tandoor using skewers. And, the best part is after getting cooked it has an appearance of a non-veg dish, which is not at all! So, all the vegetarians, as well as non-vegetarians, can enjoy soya chaap. In order to get an A-grade quality, get in touch with the reputed soya chaap suppliers in India.
You can easily get some frozen packets of soya chaap from any local supplier or from the grocery stores in the market. As it a soya product it contains all the health benefits of soya, which is a native legume of eastern Asia. Soya chaap and other soya products are an important part of the Asian diet.
Soya chaap includes various important antioxidants and phytonutrients which offer numerous health benefits. This article focuses only on the nutrition facts of soya chaap.
Nutrition facts:-The main compositions of soya chaap are protein, good carbohydrates and fats. It also includes good amounts of calories, sugar, and omega 3 and 6 fatty acids.
Protein contents of soya chaap: It is counted among the best sources for plant-based protein elements. Among its total protein contents, the primary ones are conglycinin and glycinin.
Fat contents of soya chaap: About 18% of its dry weight is fat. Soya chaap includes saturated fat, monosaturated and polyunsaturated fatty acids.
Carb contents of soya chaap: Apart from having low carbs contents, soya chaap has a very low GI or glycemic index which is the measurement of the risk of blood sugar levels after consuming a meal. Thus soya chaap is also recommended for the diabetics.
Fibre contents of soya chaap: Soya chaap includes a moderate amount of both soluble and insoluble fibre. Definitely soluble fibres are healthy. The colon bacteria in the body ferment them. In the formation of SCFAs or short-chain fatty acids, this fermentation process benefits the gut health and reduces chances for colon cancer.
Vitamins & minerals contents of soya chaap:The Soya chaap manufacturers provide supreme quality for their products so that those can provide a good source for multiple essential vitamins and minerals like
• Molybdenum – it is an important trace element
• Vitamin K1 – this phylloquinone helps in blood clotting
• Folate – folate or vitamin B9 is essential for pregnant women
• Copper – a deficiency in copper can lead to several heart problems
• Manganese – it is also a major trace element
• Phosphorus – it is an essential mineral
• Thiamine – thiamine or vitamin B1 helps in regulating body functions
Other important plant compounds present in soya chaap: The main bioactive plant elements are –
• Isoflavones – these antioxidant polyphenols have various beneficial health effects
• Saponins – it can reduce bad cholesterol levels
The soya chaap exporters in the country produce top graded food products to supply all of their clients inside the country and abroad.