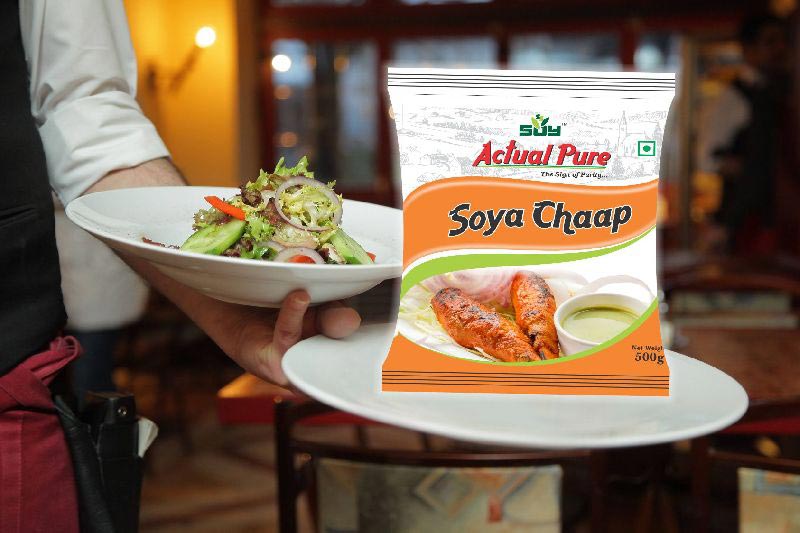 Rich in high protein content and used as a vegetarian and lactose alternative for many foods, soya bean has transformed its Asian origins to become the most extensively cultivated legume across the globe. And soya chaap is the soya product made out of soya bean and liked by the people as a popular vegetarian snack which is rich in protein. Basically, soya chaaps are healthy and tasty vegan protein chunks originated in South Asia and became popular in India and Pakistan. Traditionally, soya chaaps are the small pieces of soya which are baked using skewers in a clay oven, commonly called as tandoor after marinating in spices and yogurt. These soya chaaps are a good substitute for chicken as well. It is more popular in North Indian states. It is an extremely versatile product and can be used for grilling, making curry, kebabs, and rolls. usually, these soya chaaps are served with chapatti, biryani, etc.
Health benefits of soya chaaps: -
• The key benefits of soya chaaps are their high protein content, minerals, vitamins, and insoluble fiber.
• Soya and soya products including soya chaaps contain phytoestrogens, a chemical found in plant foods. Isoflavones are the phytoestrogens found in soya chaaps and other soya products which help in lowering the risk of breast cancer in women. Thus, commonly it is suggested to take soya rich diet in such cases.
• Soya and soya products including soya chaaps are rich in soya protein which tends to lower cholesterol levels in those people with typically high levels of cholesterol.
• Soya beans and soya products including soya chaaps also contain compounds called phytosterols. These plant compounds are structurally similar to cholesterol and steroid hormones which inhibit the absorption of cholesterol by blocking absorption sites.
A qualitative range of soya chaaps is provided by the soya chaap suppliers and exporters in India. As it is the most liked food, the soya chaap manufacturers have expanded their product portfolio to frozen soya chaap that is in huge demand in the market. The skilled professionals of the soya chaap manufacturers process and prepare these chaaps using advance methods while preserving their natural taste and nutritional value. These offered soya chaaps are demanded by the customers including food supply chain, catering companies, household consumers and many more. Besides this, the product is provided at an affordable price.
With a remarkable position in this industry, the soya chaap suppliers and exporters in India offer the product which is safe to consume, rich in taste, hygienically processed and with optimum purity and freshness. These chaaps are manufactured as per the set industry norms and standards. Soya chaaps which are found in the market are ready to cook, no preservatives are added, no artificial colors and flavors are added and are packed properly so as to intact the flavors and freshness. These chaaps are also found with spices which are added to enhance the flavors.
Clients can browse through the range of soya product provided by the companies dealing with soya products in the market and can get these delicious soya chaaps at their home at reasonable prices.