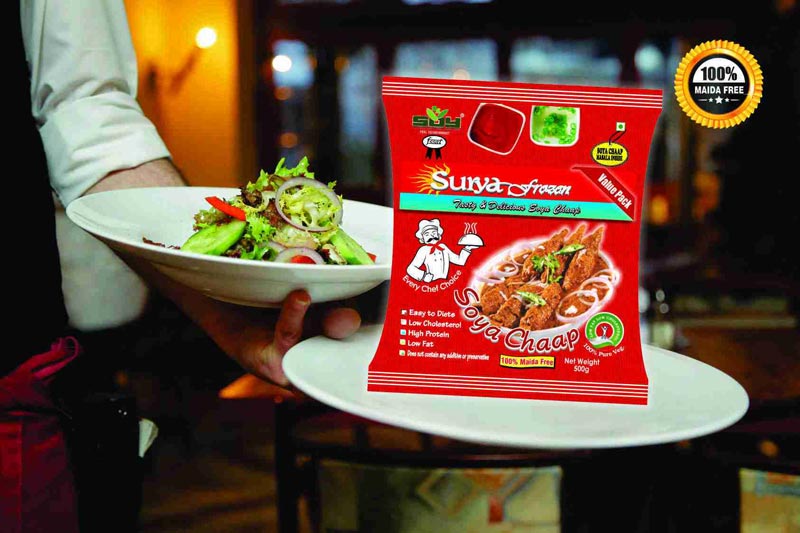 Soya chaap is a popular dish in Asia though vegetarian people often hesitate including it into their plate! A very simple reason for that is its look! It has impressions like a non-veg dish when cooked. Guys, be clear in mind that soya chaap is completely vegetarian food and it can be best used as a substitute non-veg food item. It is made from soya bean just like your favorite soya chunks. In India, Delhi NCR is the most common location in terms of making grano foods so you can trust a frozen soya chaap supplier here to get genuine products. Otherwise, you can visit the frozen section of any local grocery store where you buy dairy products.
Is soya chaap healthy? What do scientists say?
Various reviews have published by the Obesity Reviews on the relation between soya chaap (Soy protein) and weight control. And, these conclude four projected mechanisms through which soya chaap can help in controlling body weight –
1. As soya chaap is made up of soya beans it includes soy protein and consumption of which does not offer much calories than other foods.
2. Its consumption can help in fat as well as weight loss with reducing calorie intake.
3. Soya chaap can advance in controlling the glucose level in the body and also benefits heart health when your body is in the process of losing weight.
4. When your body is losing weight, consumption of soya chaap or some other soy foods can resist bone mass loss.
Benefits of eating soya chaap:
Here three key benefits of eating soya chaap are discussed below.
• High protein – if you are consuming 200g of soya chaap then you are getting almost 30g of soy protein. If you are looking for a protein diet to maintain your body then it is a big number! Our daily requirement of protein lies between 55-60g, so adding soya chaap to your diet can be a good idea. Scientists have also given theoretical and practical reports on the cholesterol-lowering capability of soya chaap (soy protein).
• Hygienic food – There is no doubt that you should consume hygienic food as it is the best way to maintain good health and fight diseases. Soya chaap is definitely hygienic and it includes a proper amount of nutrition.
• Proper diet – Soya chaap can exclusively be a part of your diet, especially if you are a vegetarian. You can best take it in a cool environment as the environment is a deciding factor for your good health.
Nutrition facts of soya chaap:
100g of soya chaap contains –
• 435 cal energy
• 53g carb
• 11g fat
• 31g protein
• 1700mg sodium
• NO cholesterol
• Calcium
• Iron
• Vitamins A, C
• Fiber
Maybe you are worried about the calorie intake with soya chaap but the good news is you can shed those extra calories by
• 1.1 hours of cycling
• 44 minutes of running
• 2.6 hours of cleaning
Scientists' research works are also at help for a frozen soya chaap supplier, as they say that the flavones present in soya chaap can control diabetes at an early stage. It increases fat breakdown and stops building up of fat tissues.
So, prepare scrumptious and healthy dishes using soya chaap.