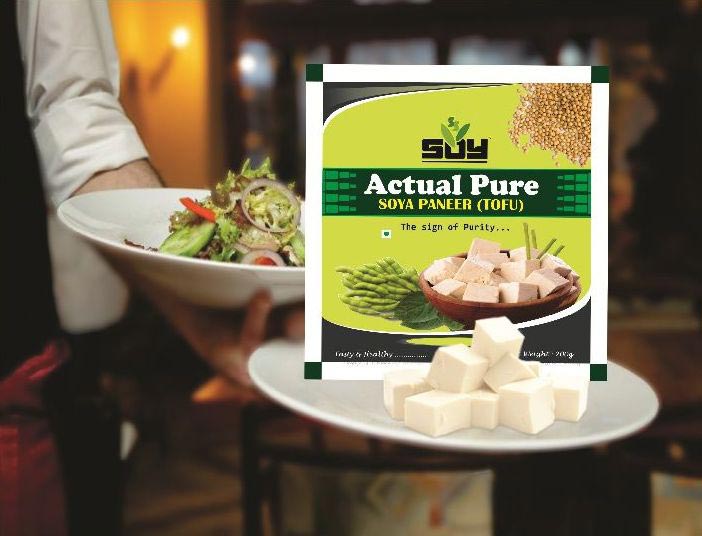 Many of us have been hearing about soya paneer in the market. Especially those who are looking for some healthier and diet-conscious items for their kitchen, soya paneer would be something cropping up in their mind every now and then. But what exactly is soya paneer that these soya paneer manufacturers are offering in huge quantities nowadays.
What Is Soya Paneer?
Soya paneer is commonly called as Tofu. While normal paneer is a dairy product, soya paneer manufacturers make use of soy milk to create this healthier version of paneer. The texture of tofu or soya paneer is very similar to that of cottage cheese or paneer but does not have the dairy components as the latter.
Soybeans are crushed and ground into a milk like substance to form tofu. This soy milk is used for making soya paneer in the similar manner. The best part about soya paneer or tofu is that it is totally vegan, perfect for all the vegan people. Moreover, those who are planning to shed some extra kilos and cut back on calories and carbs, soya paneer is the way to go. This soya paneer is good for all the health-lovers. It is rich in a number of healthy items like iron, manganese, copper, selenium, phosphorous, and magnesium. And that's not all, there are a number of other reasons why you should include tofu or soya paneer in your diet.
Why Eat Soya Paneer Or Tofu?
Promotes Weight Loss
One of the major reason why people opt for tofu over paneer is that it promotes weight loss. If you are also planning to lose your extra kilos, you should replace the dairy paneer with tofu. Majority of the people going to gyms or planning to get a leaner body look for soya paneer manufacturers to get high quality tofu and include it in their everyday life.
Prevents Risk Of Stroke: Another amazing health benefit of tofu is that it can help you secure yourself from getting a stroke attack. If you are consuming tofu regularly, there are very high chances that you may be safe from any type of cardiovascular disease. It can reduce the bad cholesterol level in the body along with decreasing the amount of triglycerides to protect you from stroke.
Helpful For Diabetic: If you are suffering from diabetes, tofu could be a super food for you. As tofu is known to be very low in fat and calories, one can include tofu in the diet without thinking twice. In fact, if a person, who is at the risk of getting Type-2 diabetes consumes at least 200 grams of tofu every day, he/she might have high chances of reducing this risk. Tofu should be a regular item on the everyday diet menu if you plan to reduce your risks of getting diabetes.
Rich In Protein: The biggest reason why one should have tofu is that it is rich in proteins. As tofu or soya paneer is made from soy milk, it is rich in protein content. This protein can be helpful in a number of ways like preventing ageing, keeping the skin's elasticity intact, and much more.